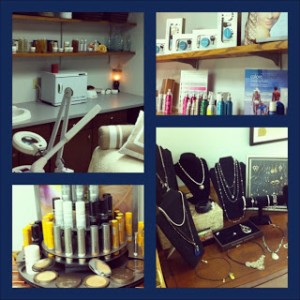 Here's a little montage of my shop. If only you could get a sensory tour here too! As you walk into my shop, the first sense to awaken is that of smell.  The calm invoked by the scent of essential oils permeating  the room is just the beginning of your treatment experience. Follow your nose to see the warm welcome of earthy colors and furnishings along with beautifully packaged ARC and Colorescience Pro retail products and shimmering Silpada jewelry.
Hear the sounds of soft music as you are drawn in.  Relax as you prepare to receive your facial where the sense of touch brings everything together.
Okay, it's a little difficult to put it all into words. You'll just have to come in and experience it for yourself!
I'd love to hear from you!
email or call me!
~ Nancy